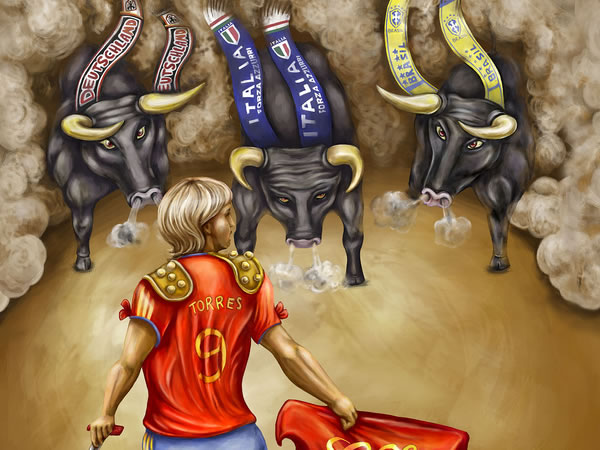 Image courtesy : World cup murals by ESPN
here
I hate world cup football! Four years ago, I could not resist myself from watching Italy win, and that cost me whole lots of precious marks in my semester exams. I always damned the world cup for happening at the wrong time. And hated Italians for not being out of the world cup so early so that those teams which I don't like could have gone and won the cup so that I need not have watched it so that I could have studied and got the marks.
Ok, truth be told, I love the World Cup football tournament. India's not playing (and I don't think will play in another 100 years), and that means I can take any side. Last time, I loved Italy although many people hated them for their defensive style of playing. Maybe it's the colour of the jersey!
But Argentina's my favourite. I become an Argentine for about a month once every four years. If some miracles happen and in the 99th year of my life, if India will indeed play the World Cup, I am sure I will have a hell of time choosing the team to which I will be loyal! I want Messi to score a hundred goals (at least ten would be okay). Some other teams I like are Spain, Portugal, England, Japan and South Korea. And I have no issues if France or Germany lift the cup. My only hatred is against our arch rivals Brazil, but my wishes don't seem to matter as they do play well.
Now that's three paragraphs about football and this is meant to be an interior design blog for invisible readers (Google analytics doesn't capture their data). No more football in this post. What I wanted to originally tell in this post is that I searched the net for South African designers and have found many many cute and possession-worthy things and wonderful bloggers. I love the wild colours and prints that my mind usually associates Africa with. Check out these African shops/blogs/designers on net.
Laura Hewgill's
Veldt
inspired by the African bush veldt. I liked her clean, floral designs and subtle colours.
Rainbow collection
benefits artisans from SA and is specifically associated with the world cup.
Ikhaya
means home in Zulu. They sell ethically made African interior products in Australia. Those featured here are Zambian cushions. So colourful!
Babazeka
calls itself 'the online store that's socially aware'. Great recycled paper boxes, hand painted things and many other stuff on sale here
Funky
Bokkie
shoes at sale on Etsy.
Beatnik Bazaar which sells handmade item
s. The designs are most amazing and original and adorable and super-cute and damn pretty that I feel like buying the whole shop now itself. Check the blog
here
and the shop
here
.
That's it for now! Enjoy the football. And the Vuvuzela.